Tongkat dagu sambil gigit sudu.. Tolak bekas yogurt yang dah kosong sambil buat muka bagi isyarat suh pegi amik lagi satu bekas. K pandang aku, muka tak puas hati..
" Melantak yogurt macam makanan ruji"
"And your problem is?" hayun-hayun bekas kosong. K bangun, amik bekas kosong sekali. Setengah jalan K pusing balik. Honestly buat aku bengang. Tahap kesangapan nak makan yogurt buah yang melampau membuatkan aku jeling kat hujung mata. Eh, tak takut pulak dia..
" Who am I to you?"
" Gay la.."
" Seriously.." K buat muka serious. Tahan gelak.. Tahan gelak Day.. Jangan gelak kang meraung mamat ni.
" Am I some kind of a joke to you?"
" Well, I can't say no to that.."
" Can't you even try to be nice to me?"
" Nope"
" Can't you not be mean to me?"
" That's out of the question.." Gigit sudu dengan jengkel. Syial.. Mana yogurt aku?
" Don't you like me at all?"
Tersenyap jap. Kombinasi bengang dan sangap nak makan yogurt buat hotak aku mendidih. Tangan kuis-kuis udara, panggil K datang dekat..
Separuh bisik..
" I used to like you.. But you're such a douche bag"
" Care to explain?"
Marah..
" Fuck it K! I'm not crazy you know! Why do you have to come into my life? WHY DO YOU HAVE TO BE HERE?"
K tergamam. Aku dah berdiri, hentak meja, berasap telinga..
" Do you think by pushing me away would make your life happier, Day?"
Bergegar jap badan ni tahan marah..
" At least it makes me sane"
" You know it's not true. You know you need me.. You asked for me.. You asked for me while banging on your chest, crying for the douche bag who got away.. You are helpless.. And I'm your savior"
Aku baling sudu. K tak mengelak, siap tangkap sudu tu dengan cool lagi. Pastu baling balik kat aku. Syial.. kalau kena macam mana?
" Stop denying my existence. I've helped you go through death of love ones.. I've helped you go through the bad break up with that asshole from your matriculation years.. Why are you so indifference this time? Why are you choosing to be so hateful?"
With my head sunken to my embarrassment, I taste my own tears by the tips of my lips.. Sial kau K.. All this because I asked you for a cup of yogurt. Damn you.
" What makes it so different this time? Why are you so stubborn?"
Stop it K..
" Face it Day.. You know you can't get away from this"
I said stop it faggot..
" Let go of it!"
" SHUT UP! SHUT UP YOU PIECE OF SHIT! YOU KNOW WHY I HATE YOU? I HATE YOU SO MUCH FOR LETTING ME FALL INTO THIS PIT. WHERE WERE YOU WHEN I WAS CONTEMPLATING ON GIVING ANYONE A CHANCE INTO MY WORLD? WHY DIDN'T YOU WARN ME THAT HE'S ANOTHER MISTAKE IN THE MAKING? DO YOU THINK BY COMING HERE, YOU CAN MAGICALLY MAKE IT GO AWAY? NO! YOU'RE JUST A STUPID ILLUSION WITH AN ANNOYING SMILE AND BIG EGO, TRYING TO SAVE MY SOUL. WELL YOU KNOW WHAT? NOT THIS TIME. BECAUSE THIS TIME, I CHOOSE TO SUFFER. I CHOOSE TO BE UNHAPPY"
senyap sunyi.. I feel a terrible throbbing in my face. I guess, crying is painful.. I hate this.. I hate my own tears.. and the sharp pain I felt in my heart. The racing ball of blood in my chest. I hate the stream of tears I wear on my face. I hate my shaking body wailing in anger. I hate everything..
" Day.." K datang dekat.. Letak tangan atas kepala aku yang tertunduk.. I fell on my knees and he hugged me..
" I won't let anyone in.. I promise you this time. I won't abandon you again" K bisik sambil usap kepala aku.
" I'll build a stronger wall for you this time. I won't let anyone comes in. Trust me"
Aku angguk, muka still benam kat dada K.
"I'm the only one who deserves your trust. i'll wear it like a crown it is."
We stay like that for a moment and suddenly I feel stupid.
" You know that by accepting your existence, I acknowledge my own insanity, right?"
" What's wrong with that? I love you because of your insanity. I'm here because of it"
" BUT I'M NOT CRAZY YOU FAG!"
" Crazy is such a negative word. I would prefer 'eccentric'"
" Eccentric hotak kau!" Aku baling bantal kat muka fucker tu..
" Wow, that escalated quickly.. From ordering me to get your snack to admitting that you are ting-tong somewhere in your head" K gelak sambil lari keluar bilik..
Syial.. Aku dipermainkankan oleh watak khayalan, rekaan otak genius aku.. Bullshit..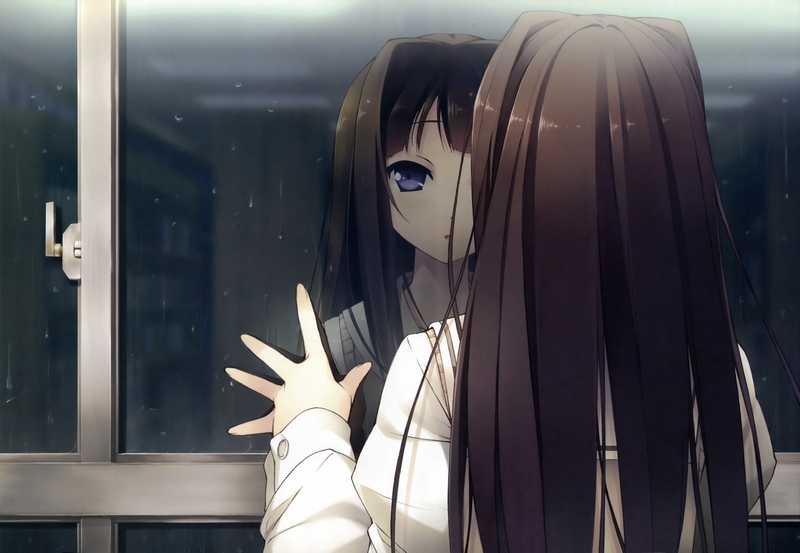 I saw my perfect best friend and a nemesis in my own reflection
.......................................
Tammat..
Akhirnya..
To be honest, aku takde kawan khayalan macam K. I wish I do because I love having someone around who I can talk shit to. Oh hey.. tablet still tidak boleh digunakan sebab laptop bangang ini.. Hahahaha.. Haa.. Haa. Haaaa T,T
Why K?
Kei - Joyful..
Something I desperately wanna be..
Adieu
Kalau suka, komen. Kalau tak suka, komen gak..Kalau taknak komen, nah! tekan benda alah kat bawah ni..Penat adik aku ejas kasik muncul.. .